Artist Statement: Arts in Education and Art Integration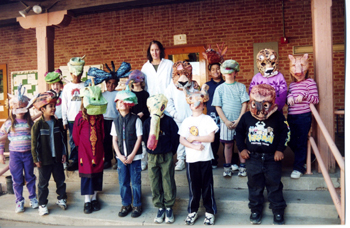 I am a sculptor. I received a Master of Fine Arts Degree in Ceramics from the Ohio State University in 1986. I began working collaboratively with teachers and students in schools in Ohio in 1987. I was asked by many schools to work in tile to create murals for their schools. In an effort to be able to work more sculpturally with students, I taught myself how to use paper mache to make sculpture in 1990. Because my background and expertise is in creating sculptural forms from clay, I began using newspaper in an additive manner, as if I was building up a clay form.

I have several goals for all collaborations with students. The first involves giving the students an opportunity to experience the joy of creating with their hands something that exists in their minds. I try to instill a sense of confidence within each student about their creative and technical potential. I tell every student that we are all artists. I promote collaboration and communication within the context of the learning experience with the thought that it will act as a model for other aspects of their lives. I hope the experience fills them with a renewed sense of excitement and enthusiasm for exploring, discovering and ultimately learning. I want students to be incredibly proud of their individual as well as group accomplishment.

The arts help us celebrate our individuality while simultaneously helping us make connections to each other, to our communities and to the world. The arts connect learning to the real world of experience. Different people learn in different ways and if, through the arts, I can involve a student who is typically disinterested, or simply not able to access a subject, I feel I have accomplished something important. As a parent and an educator I know how joyful it is to see my child come home from school bubbling with excitement about what he learned and how much fun it was. What if every child felt that way?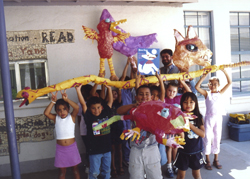 During the past two years I have been doing consulting work for The Galef Institute as an artist coach helping teachers in Arizona learn to integrate the arts within their curriculum. I am interested in continuing to help teachers expand their abilities to use the arts within their learning experiences. It is my hope that the arts become an integral part of their teaching practice and a tool that they feel completely comfortable with. So often teachers think of the art experience as something to be done after the learning happens to showcase what students learned. I am trying to reverse that notion and share with teachers that the art can be woven into the learning from the start.

I am grateful to work with students and teachers who inspire me and remind me that within every individual lay a unique and wonderful vision of the world that can be explored, celebrated and honored through the arts.
Arts in Education/ Arts Integration Projects
Language and Storytelling
When students sculpturally illustrate a story so that they may retell it through the artwork or a combination of the artwork and acting, they find themselves on the path of learning all the parts of the story without realizing it. They think they are just having fun, making all the art but, lo and behold, they understand who the main characters are and how those characters develop in the story, what happens at the beginning, the middle and the end of the story. They learn about metaphor and symbolism, abstraction, form, and how color can enhance form and so much more. The stories may be about another culture or a historical event, which becomes yet another layer of learning.
See Language and Storytelling images »
Science and Nature
As an artist who celebrates the beauty of abstract form, there is no better place to be than in the natural world and to bring that wonder of form and color and mystery into the art I make with students. If I tell first graders that ancient cultures drew pictures of their world on rocks and show them a few pictures I may find them thinking about snack time but if I say we are going to make our very own rocks and then you are going to tell me about your world and who you are and I teach them about symbols and shapes and colors I find myself with 20 first graders applauding when I walk in the room to work with them.

Whether the end result is a series of masks for a play about the rainforest or 20 grasshoppers of every color and size and personality imaginable, every step of the process includes learning. Why are those back legs on the grasshopper so big? Let's go find out.
See Science and Nature images »
Social Studies
A wonderful librarian that I know approached me to work with children making artwork to celebrate the opening of a new library in Tucson, AZ (Quincie Douglas Branch Library). She wanted the children to make something that was common to all cultures so they could understand that diverse cultures have things in common. We chose to make hats and in making those hats we learned about Egypt, the Middle East, Mexico, Australia, Africa, and the United States.

Sometimes we create characters from a time period or place in history (The American Revolution) and then the students write dialogue and put on skits between characters so they really have to get to know and understand their character and the dynamics of the situation and specific historical facts. I once had a sixth grade class write a fictitious story about a town called Egypt, Arizona. One day everyone woke to discover they felt no joy. In the story, a young woman in the town travels back to ancient Egypt to discover how to return joy to her town.

If you want children to learn about the Greek gods and goddesses, how about asking them to become a god or goddess and to make a prop that shows what their special powers and abilities are?
See Social Studies images »
Arts Integration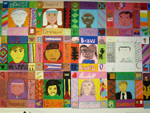 In all my years of residencies in schools working with students, I have encouraged teachers to be involved so that they might continue to use the methods I processes I used with their students.

When I began working directly with teachers in 2004, while doing consulting work for the Galef Institute, I began to understand that many teachers could benefit from teacher training workshops and one-on-one mentoring in how to integrate the arts in their curriculum. Many teachers think of the arts as a tool for the grand finale event that shows what students learned. I have been working with teachers to show them that the arts can be woven into every step of the learning. For some teachers very specific step-by-step lessons are needed for specific tasks. Other teachers need a brainstorming partner and solid suggestions on materials and processes. Teachers are all starting with various comfort levels; however, my ultimate goal is that teachers see the arts as an integral tool that they have at their disposal.
See Arts Integration images »