Artist Statement: Public Art
Public art allows me to imagine a myriad of possibilities, approaches and materials. It fuels the parts of me that loves to dream and is balanced by the part of me that is realistic and practical. It brings together my personal self with my public self in the creation of architecturally scaled, community-owned art.

The primary intent of my public art is that the work looks and feels like it belongs exactly where it is, that it appears to be an organic part of the structures and landscape. I strive to create work that has layers of relevance and meaning, to provide the community various perspectives from which it can be appreciated and accessed. In many ways I am telling a story with the art. That story may focus on the natural environment of the site, its recent history or prehistory or it may echo the nature of how the site is used and the reasons the community values it.

Many of my pieces are made in collaboration with other artists. My first collaborations were with my colleague and friend Stephen Grede, a landscape architect, designer and painter. Together, we have worked on six design team projects including three transportation projects. These design team projects are the most rewarding because they allow for the greatest degree of architectural or site integration, where the ordinary becomes an opportunity for both visual enhancement and symbolic statement. The side of a bridge becomes a canvas for a sculptural relief that integrates a metaphor for the site. Terrazzo could be used to create storytelling images. By building layers of meaning within the art the community's day-to-day interaction with the site will occur on multiple levels.

When I ventured into public art ten years ago I knew that I thrived on collaboration, and that I really enjoyed designing and problem solving. Today I find myself wearing so many more hats than I ever imagined when I first began: collaborator, designer, fabricator, general contractor, community liaison, educator and public speaker. It is the wide-open nature of what might be possible that is so interesting and challenging.
Public Art Projects
The following public art projects involved collaboration with artist and landscape artist Stephen Grede.
Square and Compass Medical Clinic, Tucson, Arizona
"Watercolor Wall", Acrylic, LED Lighting, Stainless steel, 2010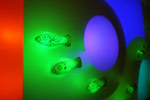 Watercolor Wall is an interactive public art piece installed at the Square and Compass children's medical clinic. "Watercolor Wall" was made in collaboration with artist Joseph O'Connell and fabricated at Creative Machines. Visitors interact with the sculpture through glowing touch-sensitive objects that cover its surface. By holding their hands on various objects they can set regions of the sculpture to different colors along a continuously variable spectrum. Colors leak between regions in the way that watercolor paint blends on paper. The fish, flowers and birds represent the flora and fauna that live in water, land and sea.
See project photos »
Pima County Inter-Agency Center, Healing Mandala, Tucson Arizona, 2008
Ceramic tile, water jet cut stone, terrazzo, vaccuformed acrylic, LEED lighting, hardscape design
The Pima County Inter-Agency Center is a building that houses many agencies that provide crisis services to children who have experienced physical or sexual abuse or have witnessed violence. Having many services available to the child at once helps to minimize the trauma they experience. Artist and landscape designer Stephen Grede and I collaborated on aspects of the project including the design of the seven screen walls in front of the building. The wall colors represent the colors of the charkas or energy centers of the body. Clients and visitors to the center walk through a central green stucco wall. Green is associated with the heart chakra as well as a color associated with healing, peace and harmony.

The visitor then walks through an entry portico containing six architectural tile and stone mandalas, one of which is at ground level, meant to be touched. Anyone entering the building must wait in a 15' entry area until staff meets him or her because the building is locked at all times. That entry space contains a 10' terrazzo lotus flower. In essence the child is being protected by this lotus flower, which symbolizes rebirth. The lotus flower roots grow in mud, its stem reaches up through water and when touched by the sun each morning its petals unfold. This daily relationship between the sun and the flower is a symbolic representation of love. The lotus flower image was again used in the post interview room inside the building. Once the child been interviewed, examined, assessed, etc. they wait in the post interview room before going with a safe adult or to an agency that will care for them. "Healing Light Mandala" is an interactive light sculpture that is touch sensitive. The child has the power to create many different combinations of colors by touching any of the panels and is able to make the piece "hold" a particular color by leaving their hand on the panel.
See project photos »
"Pavo Cristatus", Reid Park Zoo Entry, Tucson, AZ 2003
Cast concrete, ceramic tile, bronze Ceramic tile, terrazzo, laser cut metal
The committee asked us to design a piece of art that would serve as a focal point within the remodeled entryway plaza to Reid Park Zoo. They also asked for a piece that would act as a photo opportunity. I have been told, on weekends, more than 150 people a day take photos in front of or on the peacock. Children wait in line to sit upon the peacock's back.
See project photos »
The Edith Ball Adaptive Recreation Center, Tucson, AZ, 2003
Ceramic tile
The Edith Ball Adaptive Recreation Center (ARC) is an aquatic facility serving the differently abled community in Tucson as well as the general public. A zero grade pool and a therapeutic pool provide the differently abled easy access to water in a fully wheelchair accessible facility that offers therapeutic classes. The environment is meant to promote healing and well being. The tile work I created is meant to be tactile, decorative, informative and metaphorical in nature.

I wanted the art to celebrate the significance of water, with each panel focusing on a different aspect of how water makes a difference in our lives. "I Thank the Water" touches upon the spiritual and healing nature of water using the words of poet Ana Moffet. "The Ocean's Garden" celebrates the magnificence of the colors and forms that appear in the coral and shells found in the Ocean. "Tranquilidad en el Agua" is meant to be humorous and serious simultaneously as Gila River Chub (an endangered Arizona fish) swim towards a real water fountain. All the work is was designed to be tactile, given the high number of blind clients using the facility.
See project photos »
A Children's Discovery Garden, Tucson Botanical Gardens, 1999-2000
Ceramic tile, glass tile, bronze, water, topiary, masonry, welded steel
Stephen Grede is a licensed landscape architect who designed the Children's Discovery Garden as a sculptural teaching tool that illustrates the life cycle of a plant from seed to flower to fruit and back to seed again. This garden creates distinct spaces for each aspect of the process. I designed and made the tile for the project. The journey begins with a seed fountain that includes pomegranates, pinecones, coconuts, soybeans, and peaches set in glass tile. A childrens' planting garden is surrounded by fun, fantastical, fruit and vegetable tile. This was Stephen's and my first collaboration.
See project photos »
The Pusch View Extension Bridge, Oro Valley, AZ, 2006
Ceramic tile, welded steel, cast aluminum, concrete pavers, form liner design
The Pusch View Bridge crosses the Canyon del Oro (CDO) Wash in Oro Valley, AZ. The CDO wash is home to a variety of native plants and habitat for a multitude of wildlife. We chose to highlight the presence of the Garambullo, or Devil's claw which when dried is used in Tohono O'dham basket making. An abstraction of this form is used in the paved pattern and in the form liner work. A bike path crosses and then loops below the bridge and then continues north to Oracle, AZ. We chose to create a Ramada along this path to give walkers and bikers shade, water, and a place to rest and view the Pusch View Ridge in the Santa Catalina Mountains. The design for the Ramada is inspired by a double leaf pattern.
See project photos »
Harrison Road Transportation Project, Tucson, AZ, 2007 "Agave Americana"
Speedway to Old Spanish Trail
Integrated art for the retaining walls and for the median fencing in front of Gridley Middle School was inspired by the many forms of agaves found in the neighborhood, especially the species "Agave Americana" with its sculptural leaf pattern. Reference to water can be found in the form liner work on the retaining walls as well as in the laser cut metal atop the median fencing. The tile and concrete pattern repeats five times along the length of the wall.
See project photos »
The Quincie Douglas Branch Library, Tucson AZ, 2005
Ceramic tile, terrazzo, laser cut metal
The Quincie Douglas Branch Library is located in a culturally diverse and active neighborhood. The library was named for Quincie Douglas, an African American woman who was politically active and involved in the community. The art honors the contributions made by African Americans in Tucson by using African art and storytelling as inspiration for the various art elements within the interior and exterior site.

The terrazzo tells a story about Anansi, a character in the form of a spider, found in African storytelling. In this version of the story, Anansi brings stories to earth through a series of adventures. Our images include a drum (a story is about to be told), a symbol for community (Anansi helped his community by risking his own well-being for that of others), a Fulani hat (worn by storytellers) and the many creatures found in African storytelling (a rabbit, crocodile, and a monkey).
See project photos »
Joya Spa, InterContinental Montelucia Resort & Spa, Paradise Valley, AZ
Ceramic tile, 2008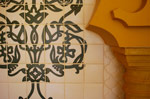 InterContinental Montelucia Resort & Spa opened in November 2008 as InterContinental Hotels & Resorts first U.S. resort. The resort is inspired by the rich history, whitewashed villages and sun drenched hills of Spain's Andalusia region with its Moorish artistic influences. The tile for the Joya Spa area was inspired by historic Moorish painted tile with its interwoven, flowing imagery.
See project photos »
City of Tampa Solid Waste Management Building, Tampa, FL, 2002
Ceramic tile
Based on the premise that City of Tampa Waste Management Department helps to keep the environment clean and beautiful, we produced a piece in two parts for the front entryway to the new City of Tampa Solid Waste Management Building. The quotes and lines from poetry represent historical and contemporary perspectives and celebrations of the environment. The tile mural represents a Roseata Spoonbill in McKay Bay at sunset.
See project photos »